Well gosh.
I just suck, don't I?
I have been so busy lately, I haven't even had time to dress like myself. Yup, THAT busy. And if I don't have time for that, well, you see the effects. No posting for almost two weeks. I'm sorry. But lets do a current events report. And if you know me, you know the ONLY current event I'm interested in talking about is Jennifer Lawrence and the Hunger Games. I don't even know where to start.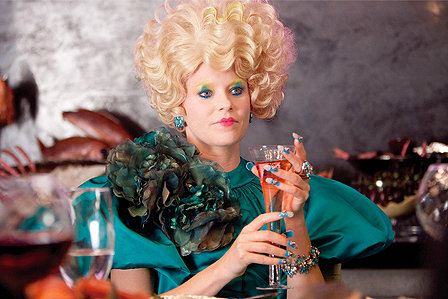 Ok, here: I could live in the capitol forever and be blissfully happy. The hair, the makeup, the outfits. Gorgeousness. I mean, aside from the fact that they murder 23 children every year in tremendously gruesome ways for their own entertainment, the residents of District 1 are my PEOPLE. Commence me moving into Cinna's closet.
And now for Jennifer: The girl knows what she's doing. From the red carpet to a GORGEOUS cover for Interview, the girl on fire is..on fire. Bad joke, I know, but whatev. See Example A..
Yes, I do know this is not related in any way to the Hunger games, But neither am I so there you have it. This was arguably one of my favorite red carpet looks ever. It calls to mind Emma Stone's 86th Golden Globes Calvin Klein dress, which I also adored.
I have recently discovered I am into simple, sleek outfits. But I really hate the word "Sleek". Reminds me of lurex. ew.
Moving on.
As I said before (I know, I know, I'm repeating myself, I'm tired, cut me come ribbon. or whatever itis people say.) J is on the cover of the most recent Interview magazine, (Remember that
Katy Perry
picture??)in Marina-and-The-Diamonds-meets-punk-girl-in-London makeup (I am putting a heart on my face with a Sharpie) and an AHMAZING corset/bodysuit thing.
Gorge, right? I thought so.
Have you seen the Hunger Games yet??
May the odds be ever in your favor. Especially when you're getting dressed.
xx,
J